India Tours & Vacation Packages 2022/2023
Save up to 40% on India Tours & Vacation Packages 2022/2023
India Travel Guide
Many tours in India include the Ganges River, because of its cultural and religious significance. The stream is considered the holy river of Hinduism. Also, many of the towns and cities you will visit lie along the river. India tours give you a chance to see larger cities, such as New Delhi and Kolkata (formerly Calcutta) as well as smaller destinations, including Kalna, Matiari, or Murshidabad. Agra is another popular site, as it is home to the famed Taj Mahal. Not only can you interact and ride elephants on India tours you can visit sites, such as Mother Teresa's former home, or visit unique places, such as the headquarters for the Hare Krishna religious organization in Kolkata. With tour operator volume buys plus our low everyday prices you can save up to 40% versus assembling the same itinerary on your own! Book your India tour today with AffordableTours.com, your discounted tour headquarters. View India Tour Deals and Discounts
India Travel Guide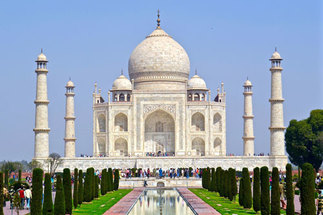 Showing 1 - 20 Tours
Tour Itinerary
Days
Operator
Quality
Style
Starts
Ends
Price



Icons of India: The Taj, Tigers & Beyond with Dubai & Kathamandu 2023 - Small Group

16

Days

Globus

First Class

Escorted
2 - Classic

20
Dubai
Kathmandu
India, Nepal, United Arab Emirates
$4,267View Tour

Best Price Guaranteed

Book With Flexibility




Golden Triangle and the Tigers of Ranthambore 2022

09

Days

Trafalgar

First Class

Escorted
5+ years old
50
New Delhi
Jaipur
India
$1,825View Tour

Best Price Guaranteed

Book With Flexibility




17 Day Classic India with Ranthambore & Nepal - Thursday Departure

17

Days

Gate1

First Class

Escorted
2 - Classic

New Delhi
Kathmandu
India, Nepal
$2,399View Tour

Best Price Guaranteed

Book With Flexibility




Icons of India: The Taj, Tigers & Beyond with Dubai 2022

1 reviews
13

Days

Globus

First Class

Escorted
2 - Classic

Dubai
New Delhi
India, United Arab Emirates
$3,349View Tour

Best Price Guaranteed

Book With Flexibility




India's Golden Triangle with Kathmandu 2022

11

Days

Cosmos

First Class

Escorted
2 - Classic

8+ years old
New Delhi
Kathmandu
India, Nepal
$1,757View Tour

Best Price Guaranteed

Book With Flexibility




Icons of India: The Taj, Tigers & Beyond with Dubai & Kathamandu 2022

16

Days

Globus

First Class

Escorted
2 - Classic

Dubai
Kathmandu
India, Nepal, United Arab Emirates
$4,057View Tour

Best Price Guaranteed

Book With Flexibility




Icons of India: The Taj, Tigers & Beyond with Kathmandu 2022

13

Days

Globus

First Class

Escorted
2 - Classic

New Delhi
Kathmandu
India, Nepal
$3,182View Tour

Best Price Guaranteed

Book With Flexibility




Icons of India: The Taj, Tigers & Beyond with Dubai & Varanasi 2023 - Small Group

16

Days

Globus

First Class

Escorted
2 - Classic

20
Dubai
New Delhi
India, United Arab Emirates
$4,418View Tour

Best Price Guaranteed

Book With Flexibility




Spirit of the Ganges 2023

07

Days

Globus

First Class

River Cruise
1 - Light

8+ years old
56
Kolkata
Kolkata
India
$3,609View Tour

Best Price Guaranteed

Book With Flexibility




Colorful India & the Ganges River with Southern India, Varanasi & Kathmandu 2023

21

Days

Globus

First Class

River Cruise
1 - Light

8+ years old
56
Cochin
Kathmandu
India, Nepal
$9,003View Tour

Best Price Guaranteed

Book With Flexibility




Colorful India & the Ganges River 2023

13

Days

Globus

First Class

River Cruise
1 - Light

8+ years old
56
New Delhi
Kolkata
India
$5,439View Tour

Best Price Guaranteed

Book With Flexibility




Colorful India & the Ganges River with Southern India & Varanasi 2022

18

Days

Globus

First Class

River Cruise
1 - Light

Cochin
Kolkata
India
$8,754View Tour

Best Price Guaranteed

Book With Flexibility




Colorful India & the Ganges River with Southern India & Varanasi 2023

18

Days

Globus

First Class

River Cruise
1 - Light

8+ years old
56
Cochin
Kolkata
India
$7,624View Tour

Best Price Guaranteed

Book With Flexibility




Spirit of the Ganges 2022

07

Days

Globus

First Class

River Cruise
1 - Light

Kolkata
Kolkata
India
$4,059View Tour

Best Price Guaranteed

Book With Flexibility




Colorful India & the Ganges River with Kathmandu 2022

16

Days

Globus

First Class

River Cruise
1 - Light

New Delhi
Kathmandu
India, Nepal
$7,602View Tour

Best Price Guaranteed

Book With Flexibility




Colorful India & the Ganges River with Southern India, Varanasi & Kathmandu 2022

21

Days

Globus

First Class

River Cruise
1 - Light

Cochin
Kathmandu
India, Nepal
$10,133View Tour

Best Price Guaranteed

Book With Flexibility




Colorful India & the Ganges River 2022

13

Days

Globus

First Class

River Cruise
1 - Light

New Delhi
Kolkata
India
$6,219View Tour

Best Price Guaranteed

Book With Flexibility




Colorful India & the Ganges River with Kathmandu 2023

16

Days

Globus

First Class

River Cruise
1 - Light

8+ years old
56
New Delhi
Kathmandu
India, Nepal
$6,822View Tour

Best Price Guaranteed

Book With Flexibility




Icons of India: The Taj, Tigers & Beyond with Kathmandu 2023 - Small Group

13

Days

Globus

First Class

Escorted
2 - Classic

20
New Delhi
Kathmandu
India, Nepal
$3,322View Tour

Best Price Guaranteed

Book With Flexibility




Icons of India: The Taj, Tigers & Beyond with Varanasi 2023 - Small Group

13

Days

Globus

First Class

Escorted
2 - Classic

20
New Delhi
New Delhi
India
$3,463View Tour

Best Price Guaranteed

Book With Flexibility
India Travel Guide
India Tours Highlights
Visit the beautiful Taj Mahal in Agra at the break of day,
Stop at New Delhi and visit the Chandni Chowk, traveling to the market by rickshaw.
See how candies are made in Matiari.
Visit the former home of Mother Teresa in Kolkata.
Explore Jaipur, home to the Palace of the Winds and other stunning sites and attractions.
Tour the Hare Krishna Center in Kolkata.
Observe Muslim women weaving textiles in Kalna.
Savor genuine Bengali specialties and cuisine.
Ride elephants or interact with them at Amber Fort, near Jaipur.
India Tours Travel Tips
If you choose to visit floating markets or boat down the Ganges, visit India in February. Temperatures during that time are around 65 to 72 degrees Fahrenheit, on average.
Check with your physician to see if you should get vaccinations for typhoid and Hepatitis A and B.
Find out if you will need a prescription for malaria drugs. Mosquitoes populate Indian waterways.
To treat digestive distress, bring Xifaxan with you.
Use the ATM at the airport, as ATMs are not prevalent in India. Make sure you have money to exchange and use.
Check to see if tips are included in your India tour's price. Usually, you will be required to provide the tips.
Wear closed-toed shoes.
Remove your shoes when visiting a Hindu temple.
Carry a universal adapter so you can access the Internet
India Tours Things To Do
New Delhi

One of the places India tours often visit is New Delhi. Don't confuse Delhi, India and New Delhi though as being one and the same. While New Delhi is India's capital, Delhi describes the surrounding area. New Delhi mixes past India with contemporary buildings, giving you a place marked by past cultural influences and today's advances.

Best Time To Visit

Visit New Delhi when the weather is pleasanter, or during February.

You Should Know

The tallest structure in the world is located in New Delhi. It is the Mughal landmark, the Qutub Minar – standing at 73 meters or 240 feet tall. The city is the second most populated city worldwide, next to Tokyo. New Delhi experiences regular quakes, of which 33% rank above 2.5 on the Richter scale.

Agra – The Taj Mahal

Agra is located south of the capital of India, or New Delhi. The main reason people visit Agra is to see the beautiful Taj Mahal – a landmark named a UNESCO World Heritage site in 1983. It is considered an excellent example of the Mughal design in architecture.

Best Time To Visit

Keep your travel calendar open to the month of February – the best time to see Agra and the Taj Mahal.

You Should Know

The Taj Mahal was built by Shah Jahan, a Mughal ruler. He designed and constructed the structure to commemorate his third wife Mumtaz Muhal in the seventeenth century. The name, Taj Mahal, means "crown of palaces," in Arabic – an apt description. While India primarily embraces the Hindu religion, the Taj Mahal follows an Islamic architectural design.

Jaipur

Known as the capital of the state of Rajasthan, Jaipur is known for its Pink City – a palace complex that has a pink hue. The lovely structure is surrounded by gardens and courtyards and features museums. A part of the building is used as royal living quarters.

Best Time To Visit

The weather is better in February, as there is less threat of rain, the skies are clearer, and the temperatures are milder.

You Should Know

Jaipur earned the reputation of the Pink City during the rule of Sawai Ram Singh, who ordered that the city's palace's color be painted pink for the visit of Prince Edward of Wales. The pink color still remains. Also, Amber Fort, near Jaipur, is the most popular site to visit in India if you want to ride an elephant. The site sits on a hilltop, which offers a stunning view of the surrounding area.

Kolkata

Once popularly known as Calcutta, Kolkata, today, reveals remnants of its colonial history through some of its building's architectural designs. One of the best examples is the city's large Victoria Memorial Hall, which features a museum and garden area. By contrast, the city is also known for its slums – places where Mother Teresa cared for the sick and poor. Mother Teresa's former home is a must-see Kolkata attraction.

Best Time To Visit

You can sight-see more easily in February, as you won't be plagued by smog, and the temperatures are more tolerable.

You Should Know

The religious organization, the Hare Krishna, gives tours of their main facility in Kolkata. Also, people who live in Kolkata love the game of chess. One place in the city, Gariahat Road, is the main location chess lovers go to take their turns at playing the game.

Kalna

Named for the deity Ma Ambika, Kalna is known for its temples with their terra cotta styling. The structures were built in the eighteenth century by Maharajas of Bardhaman. The temples clue visitors in on the town's important history and illustrious past.

Best Time To Visit

Mark February on your calendar as the best time to see Kalna.

You Should Know

Besides walking, you can get around Kalna by taking a toto, or a three-wheeled battery-operated vehicle, or by going by a three-wheeled diesel-fueled rickshaw. You have to barter with the driver first, as the fees for rides are not fixed. The Rajbari temple complex in Kalna features crisscrossed walking trails and nicely maintained flower beds and hedges. You can also see two of the town's 25 Kalna pinnacled temples at the site. The Pratapeswar Temple is one of the best examples of terracotta temples in Kalna. It is located at the Rajbari site's west entrance. Built in 1849, the Pratapeswar Temple shows off terracotta embellishments on its exterior.

Matiari

A town sitting along a branch of the Ganges, Matiari spans the Hooghly River. Brass craftspeople from Kolkata established the town about 100 years ago. Vendors in town sell copper and brass souvenirs, such as statures depicting Hindu deities, and popular jewelry items, such as bangles.

Best Time To Visit

The best time to see Matiari is in the late winter, or February.

You Should Know

Locals call Matiari a "Brass Working Village" – a testament to the city's founding. The people still make brass-making their main occupation. The Krishna Rai Jeu Temple is an interesting temple and tourist attraction in town.

Murshidabad

Murshidabad is a district and town in West Bengal, which lies along the left bank of the Ganges River. The town is known for its production of silk. It once was the Bengal capital from 1717 to 1773. At that time, the British switched the capital to Calcutta (now Kolkata).

Best Time To Visit

It is best to see Murshidabad in February when the weather is not as hot and humid. The average temperature is around 72 degrees Fahrenheit.

You Should Know

You can see some of the town's attractions by hiring a horse-drawn cart. For example, some visitors choose to see the Katra Mosque with this mode of transport. You will also want to see the Hazarduari Palace, which was built in the nineteenth century. The structure display 1,000 doors, most of which are not real or do not lead anywhere. Take a tuk-tuk to the center of town if you are shopping for textiles and other local items.

Varanasi

Sitting at the Ganges River, Varanasi is of religious importance to the Hindu people who bathe in the river. Visitors who journey to the Hindi holy city believe, if they die in Varanasi, they will experience enlightenment.

Best Time To Visit

Visit Varanasi in February when the temperatures and humidity are lower.

You Should Know

The last rites are performed in Varanasi in the sacred waters of the Ganges. The city, itself, is home to over 2,000 temples, one of which is the famous Golden Temple, built in honor of the Hindu deity, Shiva.
India Tour Packages
You can see India about anytime, especially from October to March. However, it is best to go in February, when the crowds are fewer and the heat and humidity are lower. Don't wait until March, the climate at that time is truly stifling. Even if you pay a discounted price for March travel, it is better to visit India in February. The heat and humidity in March are noticeable.
Winter - December to January - Low Season

During December and January, the air is not as clear and the temperatures are more uncomfortable. For example, if you want to see the Taj Mahal during sunrise in January, you may have a hard time viewing the site. That is because it is smoggier during this time of year. Wait until February to get the best view.

Autumn - September to November - Good Season

If you want to pay less for India tours, you might elect to travel in October or November. However, again, you will enjoy a more moderate and milder climate in February. It just depends on whether you want to save money or feel a bit more comfortable while seeing the sights.
India Tours Frequently Asked Questions
What are India Tours?

Tours to India often last for 7 days, although you can lengthen your stay up to 21 days or more. Some of the major attractions are located in Agra (home of the Taj Mahal), the capital of India, (New Delhi), Kolkata (formerly Calcutta), and Jaipur.

What Is Included in India Tours?

Most tour schedules highlight the local life and culture of India towns and cities. Tours are guided and feature the local making of crafts, such as brass and textiles. You receive deluxe accommodations and some meals are provided free (usually breakfast).

What Is the Best India Tour?

The best India tour is the trip that will meet your tour preferences and schedule while staying within your budget. Talk to a travel representative so you can customize a plan of travel and review the travel packages.

How Much Do India Tours Cost?

The amount you will pay for India tours depends on when you plan to go, the length of the tour, and its amenities. Plan to spend about $1,300 per person.
Learn More About India Tours

Discover The Best Of India

India is eccentric, spiritual, lively, and compares to no other destination on the planet. These are the top highlights in India you should travel to.


What Is The Transportation In Asia Like?

Whenever and wherever you travel, public transportation in Asia gives you an insight of the local life and a chance to have a memorable experience.


Review: Icons Of India With Globus

Discover India with Globus, a diverse country filled with a long history, a variety of languages, amazing monuments, and a rich cultural heritage.

Dining Etiquette From Around The World

Travelers can be unfamiliar with local dining customs. Here is a handy guide to help you navigate dining etiquette wherever you in the world.


4 Reasons Why Intrepid Has The Best Tours For Foodies

Intrepid's food trips have been designed with one thing in mind – to help you experience the best local food on the planet. Each Food Adventure is filled with cultural exploration, historic highlights and plenty of grassroots travel. They're just seasoned to perfection – food travel at its best! Since you're traveling with the experts at…
Reviews for India Tours and Vacations
Spiritual Southern India with Gate1 was a wonderful experience. Our guide Jay was very knowledgeable and thorough. Allow lots of time to mingle and learn with the people you see and meet, and enjoy all of your senses coming alive from the experiences you will have.
Frank Z
This was a fantastic trip with varied activities and a superb tour guide.
Patricia D
Richard was very helpful and cooperative. We liked his service.
Ram R
Attractions
Departure
Lengths
Styles
Specialities
Price
How It Works
Vacationing has never been easier or cheaper with the help of a dedicated travel consultant from AffordableTours.com
1. Free Quote
Find your perfect trip on our website and simply request a free quote. Need to speak to a live person? Call us 7 days a week at 1-800-935-2620. No robots here!
2. Dedicated Travel Consultant
Your personal travel consultant will reach out and be your point of contact for your entire travel experience from start to finish. Did we mention you'll be working with an award winning team? Sweet!
3. Lowest Price Guaranteed
Because we're one of the largest sellers of travel, we're able to give you a discount on your vacation package. No one beats our prices!
4. Stress Free Travel
Knowing you got the best deal, all that's left is for you to pack your bags and enjoy your vacation!